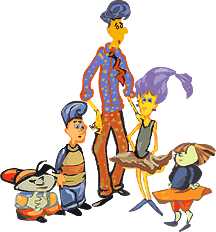 Welcome to You Be The Judge, an interactive threaded storybook for elementary students. This story teaches core democratic values such as Pursuit of Happiness, Private Property Rights, and other Constitutional Rights.
The online story has been divided into sections. This is a modification which allows the story to load faster. And since this is a "threaded" story, you only need to download the parts of the story you need. There may be slight delays, depending on your connection speed, while each section loads. Dowloading the entire story allows you to view the story at anytime, and avoid any breaks in the story during viewing that may be caused by viewing the story online.
Feedback
Feedback is always encouraged and welcome here.
Viewing the story is as simple as three easy steps:

Decide if you want to view the story online, OR download the entire story for viewing at any time. If you'd like to download the story, go to step 3.
(Depending on your connection speed, downloading the entire story will allow it to play back smoother. It will also play "full screen" and does not require any plugins to play!)

If you'd rather view the story online, you need to have the Flash 4 plugin installed. If you're not sure you have it installed, click here to view a quick test animation. If the test animation doesn't appear correctly, click here to download the latest version of the free Flash 4 plugin.

Select the version of the story below you'd like to view:






OR

select your version to download:

*Mac version requires FREE Stuffit Expander to decompress. Dowload here.